Here we will simply place the evidence before you and let you decide for yourself.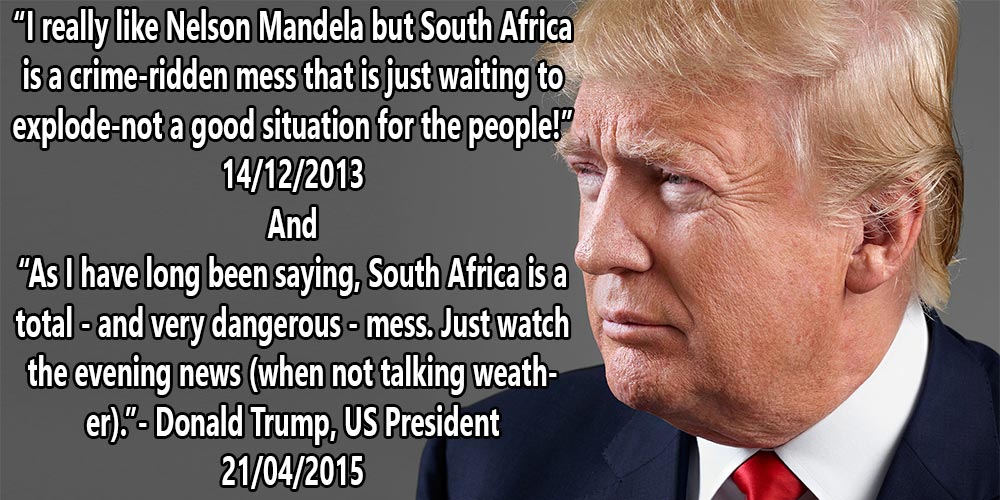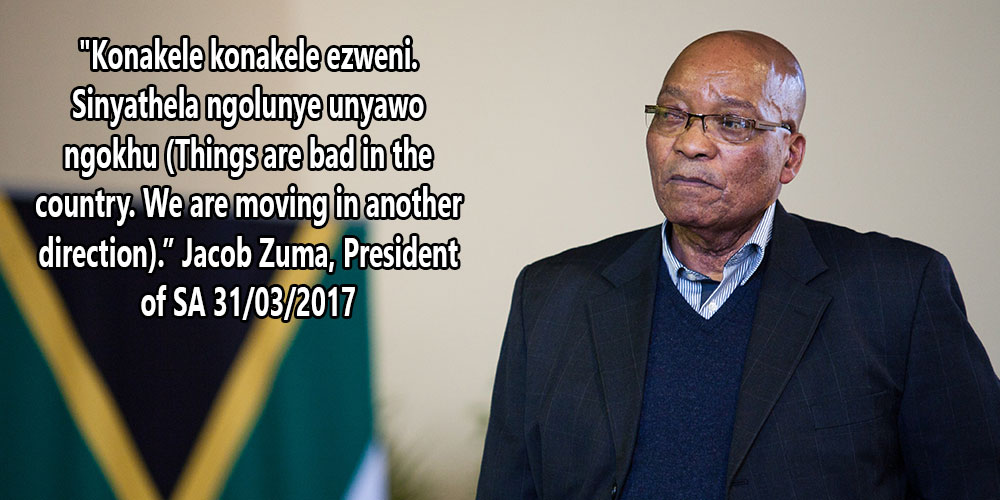 Demographics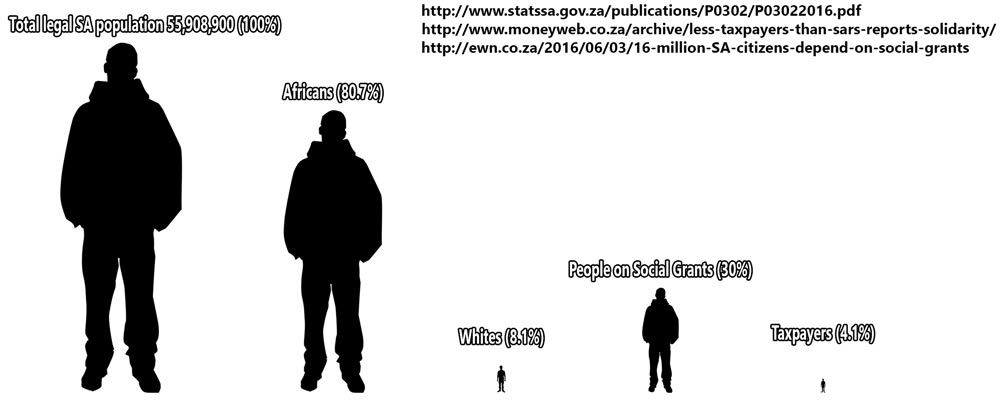 An excerpt from an article concerning protest action.
Police figures show that between November [2013] and January [2014], 2947  service delivery protests took place across the country, most of them in KwaZulu-Natal, Gauteng and the Western Cape. In contrast, between January 2009 and August 2012, 3258 protests took place.The protests, the police figures show, are also becoming increasingly violent. In all provinces except the Western Cape, significantly more violent protests took place in January than in the previous two months.November saw 115 violent protests take place across the country, but by January, the number had risen to 180.

http://www.news24.com/Archives/City-Press/Zuma-sidesteps-flames-20150429
A Suidlander map of confirmed protest action since May 2016
"They told us the plan: Organize patrols. Block the enemy. Block all intersections, so that anyone trying to escape will be stopped and killed. So that is what happened. After we left the meeting, we went to a place where many people would pass, and we stopped them. Some of them managed to run away. Some were stopped by others because there were roadblocks everywhere." – Elie Ngarambe, participant in the Rwandan Genocide of 1994 that killed over 800,000 people.
Property Expropriation Without Compensation
"If you want to start a civil war in this country, do that, do that." – Dr Pieter Groenewald, MP, 14/06/17
"Dr. Stanton noted that recent studies of the correlation between corruption and atrocities committed by governments show that the relationship is direct.  Once in power, corrupt governments cling to power because of the enormous wealth their officials amass.  They then persecute, torture, and murder anyone who challenges their grip on power.  That downward spiral has begun in South Africa, just as it did in Zimbabwe.  In Zimbabwe it resulted in the Gukurahunde genocide against Joshua Nkomo's Matabele people and Mugabe's repression of the MDC." – Dr Gregory Stanton, Research Professor in Genocide Studies and Prevention at George Mason University 05/12/2014
Award-winning author and playwright Zakes Mda says South Africa is heading for a bloodbath if the ANC loses the 2019 general elections because the president is unlikely to relinquish his grip on power. A long-time ANC supporter, Mda fails to see how the party will garner more than 50% of the vote with President Jacob Zuma at the helm. Neither does he believe that Zuma, who Mda believes is petrified of facing imprisonment, will voluntarily step down before his term draws to a close in 2019. "Many people think that Jacob Zuma will go. Oh no, Jacob Zuma will not go … he knows that if he goes all those [corruption] charges and all other nuances pertaining to the Guptas will come and he will end up in prison. "He wants to stay in power because, [for] as long as he is in power, he is able to manipulate the system, such as the NPA [National Prosecuting Authority], by planting his own people there who are going to protect him. [If he were to step down,] he becomes vulnerable and therefore he ends up in prison. He is going to fight to the death if anybody tries to put him out." Mda said.
http://mg.co.za/article/2016-11-16-00-zuma-will-trigger-a-bloodbath-if-the-anc-loses-in-2019-award-winning-author-says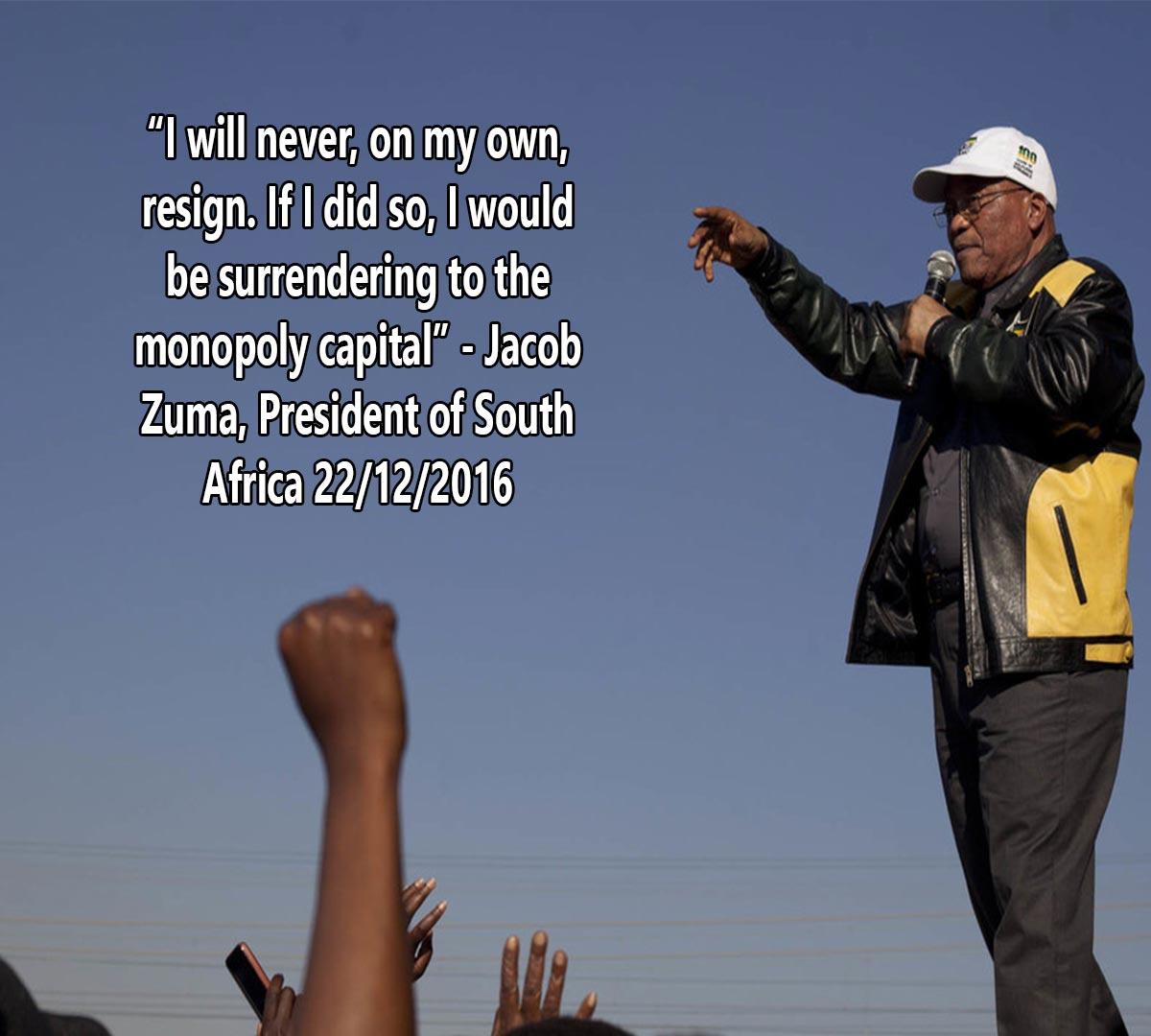 The link between the lavish refurbishment of President Zuma's Nkandla homestead with its bunker and the passing of the Protection of State Information Bill and Cabinet's threat to transform the Judiciary should not be under-estimated. It is a portent of things to come. The building of the bunker should not be our only worry, but its link to underground tunnels that connect it directly to a helipad, should fill us with horror. Political rulers, with life-long ambitions to stay in power, build bunkers. Ditto Muammar Gaddafi, Saddam Hussein, Robert Mugabe and many dictators who have gone before.
http://www.politicsweb.co.za/news-and-analysis/zumas-bunker-a-portent-of-things-to-come
Water
An acute water crisis, similar to the electricity shortage which led to load shedding, is looming in South Africa. A Rapport investigation into the water crisis in South Africa revealed that water-shedding is now a possibility in the country. According to the report, there are numerous factors which led to the dire water situation:
South Africa's dam building programme is a decade behind schedule.
Faulty pumps are resulting in the loss of great amounts of water.
Leaks and poor water infrastructure leads to a tremendous loss of water each year.
Poor or dysfunctional sewage plants result in large amounts of sewage flowing into rivers and dams.
According to the newspaper, there are now 1,100 fewer functional rain meters in the country than in 1970. This clearly shows the government's "don't-care" attitude towards the water crisis, said the experts.
https://mybroadband.co.za/news/government/189452-water-crisis-in-south-africa.html
Electricity
THERE is a more than 50% chance that the country's energy grid will suffer a total collapse soon, energy analyst Ted Blom recently told a National Energy Regulator of SA (Nersa) panel at a public hearing in Johannesburg on Eskom's application for a further hike in tariffs. News 24 reported that Blom said: "A total grid collapse is what we don't want to face because it will take you anything between a week and two weeks to recover, and I'm not even talking about the mayhem that will occur in the meantime."
http://www.news24.com/SouthAfrica/News/TOTAL-BLACKOUT-Do-the-local-authorities-have-a-plan-if-Eskom-collapses-20150729
Unemployment
South Africa's jobless rate rose to the highest in over a decade in the third quarter as more people started looking for employment. The jobless rate rose to 27.1% in the quarter through September, the highest in at least eight years, from 26.6% in the previous three months, Statistics South Africa said in a report released on Tuesday in the capital, Pretoria. The median of six economist estimates compiled by Bloomberg was 26.6%. The number of people without jobs rose by 239 000 to 5.9 million while those employed increased by 288 000 to 15.8 million.
http://www.moneyweb.co.za/news/economy/q3-unemployment-hitsf
Mining
South Africa's key mining industry is at risk of collapse due to political unrest and labour instability which have negatively impacted investment into the country, the chief executive of the nation's biggest gold company said on Monday… …"It's just very clear, we sit on a knife edge as an industry – it could well collapse and that means it's unlikely that Africa's potential will be realised because resources will be sterilised."
http://www.iol.co.za/business-report/companies/sa-mining-sector-on-the-edge—sibanye-ceo-2094237
Economy
South Africa's Reserve Bank Governor Lesetja Kganyago has forecast zero percent growth for 2016, 1.5% in 2017 and 1.7% in 2018. This spells disaster for the country, particularly the unemployed.
http://www.sabc.co.za/news/a/5d6a96004da198a4a9cffbcfeb4bc468/South-Africa-can-expect-zero-growth.-Its-problems-are-homemade-20160726
Crime
South Africa's murder rate increased by 4.9 per cent in the last year, to more than 50 people killed every day. In total, there were 18,673 homocides [sic] in the 12 months to March 2016, official statistics show. This is up from 17,805 in the previous year… …"What it says about us South Africans is that we are violent, we have a prevalent culture of violence," he told journalists. The police minister said the country was struggling with "a prevalent culture of violence"… …The statistics also showed 142.2 sexual offences per day over the last year. This is a slight drop on a the previous year, but police speculated the decrease was down to underreporting rather than an improvement in the situation.
http://www.independent.co.uk/news/world/africa/south-africa-murder-rate-51-killed-every-day-rise-49-per-cent-a7224176.html
Illegal Firearms
Johannesburg – A total of 6 602 firearms were lost and stolen from the police in the past five years, civil rights group AfriForum said on Tuesday. There were 3 576 firearms stolen and another 3 026 reported lost between January 2009 and June 2014, the organisation said in a statement. The bulk of those lost (1 073) and stolen (835) were recorded in KwaZulu-Natal.
http://www.news24.com/SouthAfrica/News/6-602-firearms-lost-stolen-from-police-in-five-years-Afriforum-20150818