Suidlanders Emergency Plan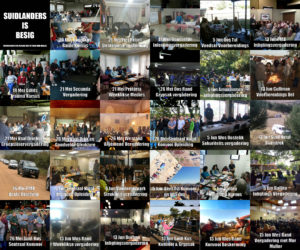 We are asking for your help to urgently raise funds for vital necessities, especially diesel fuel because of its numerous versatile applications in conditions of war. That will be followed and supplemented by medicine, radios, and feminine and paediatric items e.g. food, clothing, bedding, and tents.
Suidlanders is the world's largest non-state civil defense organization, constituted under international law per the Geneva Convention to safeguard the welfare of non-combatant civilians of the Boer people.
We are preparing to stand our ground, to die if necessary, rather than give any more way to barbarism in the beautiful country that our forefathers built with blood, sweat, tears, and faith in Almighty God.
We shall be the last people in the history of the world that shall stand – as a homogeneous nation undiluted – to die for Christ against the wave of humanism that has been injected by aliens into the veins of the European peoples of the world today.